| | |
| --- | --- |
| Troy Saunders Class of 1983 | |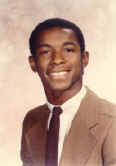 He was twice selected as All-Division/ County in football, once in basketball, and three consecutive years he was selected All County and All-State Track and Field (high jump). He received the BRHS Principal's Trophy (track and field) in 1981, 1982, and 1983. As an all-star in track and field, he set several BRHS high school records that still stand today. He won the state championship for all of Group I in 1982, and set a New Jersey State record on his way to a second title in 1983. Later that summer, Troy was selected to participate in the International Sports Exchange as a member of the United States National High School Track Team. He traveled to Seoul, Korea, Taiwan, and Hawaii to compete in the high jump and high hurdles, where he won Silver and Bronze medals respectively.
After graduating from Bordentown Regional High School in 1983, Troy went on to a college preparatory school, the Marine Military Academy (MMA) in Harlingen, Texas where he continued his athletic and academic achievements. There he set more state records (Texas) in the high jump, received All-State honors, and was selected MMA's "Athlete of the Year" before graduating with academic honors in 1984.
During 1984, Troy received an appointment to the United States Naval Academy in Annapolis, Maryland. While attending the Naval Academy, he participated in several collegiate and community activities, and was a two-sport varsity letter winner in track and field, and football. He received several post-season honors as a high jumper during his sophomore year. As a standout wide receiver on the Naval Academy football team, he received numerous All-East citations during his sophomore and junior seasons. In 1988, he graduated from the Naval Academy with a Bachelor's Degree in Physical Science (General Engineering), and was commissioned as an Ensign in the United States Navy. Troy Saunders was born the seventh of eight children in Trenton, NJ on November 25th, 1964 to Barbara and Howard Saunders of Bordentown, NJ. He, as with his seven other siblings, attended Clara Barton Elementary School, MacFarland Junior High School, and graduated Bordentown Regional High School (BRHS) in 1983. While attending BRHS, he participated in several school clubs, was a four-sport varsity letter winner in soccer, football, basketball, track, and finished academically in the top 20% of his class.
While serving his country as a Navy commissioned officer from 1988 to 2000, Troy's tours of duty included the USS WASP (LHD-1) Amphibious Assault Ship, the USS ALASKA (SSBN-732)(Blue) Nuclear Trident Submarine, Naval Air Systems Command Headquarters, and the Defense Logistics Agency Headquarters. He fought in the 1990 Gulf War, and several other foreign military campaigns including Bosnia. He has traveled extensively throughout Western Europe, the Middle East, and the Far East. Some of his personnel achievements include Surface Warfare designations, Submarine Warfare designations, a Defense Meritorious Service Medal, a Joint Service Commendation Medal, two Navy Commendation Medals, and two Navy/ Marine Corps Achievement Medals. After completing twelve years of honorable service, Troy left the Navy in the spring of 2000 to spend more time with his family, and to pursue other interests in the private sector.
Since leaving the military, Troy has been working at Black Entertainment Television (BET) Inc., headquartered in Washington, DC as the Director of Logistics, Facilities, and Corporate Administrative Operations. He has overall responsibility for all broadcast facilities in Washington DC, New York, Los Angeles, and London, England. As a Director he is already credited with the reconstruction of the largest fully digital broadcast studio and soundstage in the National Capital Region last year. His day-to-day responsibilities include supply chain management, real estate and facilities management, lease and contract management, and design and construction management.
Troy has been married to the former Robin Terese Davis of Columbia, Maryland for over thirteen years. Together they have three boys Troy age 12, and twins Justin and Jordan age 4. They have been residents of Columbia, Maryland since 1991.