------2001-2001
| | |
| --- | --- |
| John E. Callery 1935-1972 | |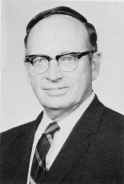 John Callery was born in 1913 and grew up in Roebling, NJ. His father was the superintendent of the John A. Roebling & Sons Mill, in Roebling, NJ. Mr. Callery graduated from Burlington City High School in 1931. He had one brother and one sister, both now deceased.
He attended New Jersey State Teachers College at Trenton, now the College of New Jersey, graduating in 1935 with a B.S. in Health and Physical Education. Mr. Callery lettered in football, basketball and baseball during his college career.
Mr. Callery met his future wife, D. Ogden (Oggie) Callery, while at college. Oggie was also a Phys. Ed. Major who also eventually taught at Bordentown and for many years at the Marie Katzenbach School for the Deaf in West Trenton.
After graduation, Mr. Callery began his long and distinguished career at William MacFarland High School, now Bordentown Regional High School. In addition to teaching Physical Education and Health, he also taught biology and general science. During his career, Mr. Callery also coached, at various times, baseball, basketball and football. When William MacFarland High School was gutted by fire in January of 1942, Mr. Callery tossed desks, chairs and supplies from the balcony of the second floor science lab while firemen battled the blaze in subfreezing weather.
After the breakout of World War II, Mr. Callery joined the United States Coast Guard and participated in the Allied Invasion of Europe at D-Day. After the war ended, he returned to his career at Bordentown. He also earned is Masters Degree at Rutgers and completed course work towards a doctorate at Temple University.
During the post-war years, Mr. Callery is credited with many firsts. He was appointed as the first Athletic Director during this time, in addition to his teaching duties. Feeling strongly that sports should be available to all students, not just those on interscholastic teams, Mr. Callery developed an Intramural sports program at Bordentown, giving students the opportunity to earn, in addition to Varsity letters, an "Old English B". Mr. Callery was an enthusiast of gymnastics and tumbling, and is credited for acquiring the first gymnastics equipment, including a trampoline, to Bordentown High School. Mr. Callery also recognized the growing need for driver education in the postwar era. He became the first faculty member from Bordentown to be trained by the American Automobile Association in defensive driving and driver education. He also forged a longstanding relationship with the Mercantini Motor Company to provide vehicles for behind-the-wheel driver training. It is also during Mr. Callery's tenure as Athletic Director that varsity women's sports were first introduced, as well as expanded men's sports such as track and cross country.
In 1966, Mr. Callery was appointed Principal of Bordentown Regional High School. Replacing him as Athletic Director was fellow hall of famer, Burtis "Bunker" Hill. Mr. Hill considered Callery to be his role model and mentor. In fact, Mr. and Mrs. Callery were godparents to all three of Bunker Hill's children.
In 1970, Mr. Callery became Superintendent of Bordentown Regional High School, a position he held until his retirement in 1972.
Mr. Callery also served his community with distinction. When the E.R. Johnstone Training and Research Center was opened in Bordentown in the 1950s, Mr. Callery spent summers developing recreation programs for the residents of that facility. Mr. Callery also served as director of the summer recreation program for the Township of Bordentown during the early 1960s. Mr. Callery loved history and was an active member of the Bordentown Historical Society. He also had leadership roles in Bordentown's Bicentennial Committee and the town's 275th and 300th anniversary celebration. Mr. Callery was also a high school football official and was honored with Life Membership in the New Jersey Football Officials Association.
During his retirement, Mr. Callery traveled around the world with his beloved wife, Oggie. He also was active in the Burlington County Retired Teachers Association and the American Association of Retired Persons. He continued to live on Bonnie Lane in Bordentown Township until his death in 1987. Oggie Callery passed away in 1996.
The gymnasium at Bordentown Regional High School is named in his honor.
John C. 'Jack' Golden Class of 1952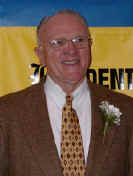 Jack Golden graduated William MacFarland High School of Bordentown in 1952. As a student athlete, he was awarded the Varsity Buckle for earning 9 varsity letters. He was also President of his Senior Class.
Jack was the starting quarterback of the varsity football team for two years. He earned 4 varsity letters playing second base for the baseball team and as a sophomore, helped lead his team to the Group I Championship. The Kansas City Athletics and the Pittsburgh Pirates invited him to try out for their respective baseball teams.
As a basketball player, Jack was a high scoring forward with a reputation around the league as a very accurate shooter. In a time when basketball teams rarely scored more than 50 to 55 points per game, Jack set the school's single game record of 25 points. During his senior year, Jack led the Burlington County High School League in scoring with a 18.9 points per game average and scored a total of 341 points.
His distinguished post season honors included being selected to two All State teams, the Star Ledger First Team All State Group II and the Trenton Times-Advertiser Third Team All State, which included high schools and prep schools of all groups in the area.
Jack continued his collegiate athletic career at Juniata College, where he earned 6 varsity letters, 3 in basketball and 3 in baseball. Jack also served in the United States Army Security Agency in the Philippine Islands where he had the opportunity to play baseball and earned the Most Valuable Player award.
Jack has two children, Jill and Greg, and resides in Philadelphia with his wife, Betty. He is recently retired after 38 years of service as a Healthcare Administrator.
| | |
| --- | --- |
| Larry Carthan Class of 1979 | |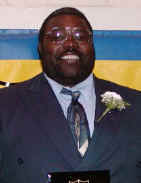 Larry Carthan accomplished many athletic achievements during his high school career. He is most remembered as a legendary running back for the high school football team. He earned 9 varsity letters, three each in football, basketball and track. He also received MVP honors from the school in all three sports. A well-rounded student, Larry also earned the "Olde English B".
Larry Carthan led the high school football team in rushing in 1977 and 1978, rushing for a career total of 1646 yards, and in his senior year he scored 21 touchdowns, rushed for 1023 yards and earned All-County and All-South Jersey honors.
Although football was his main claim to fame, basketball was a close second. He was recruited by many colleges to play basketball. The starting center for three years, Larry led the team in rebounding in each year and scored over 900 points. His senior year the basketball team went 21-3, were undefeated in the Freedom Division, only to lose a heartbreaker in the states in the second round to Wildwood. He also received All-South Jersey honors in basketball.
Larry excelled in shot put in track and field. He was All-County and qualified for the States in 1978.
Larry lettered in football at the University of Cincinnati for four years. He was a starter his freshman and sophomore years. Injuries started to take their toll and Larry's senior year ended early due to knee problems. The NFL might have been the next stop for Larry, if injuries did not shorten his career. Larry graduated from Cincinnati with a degree in accounting in 1982.
Larry married Deborah Boone in 1988. They have three children: Larry, Jr., Gary Craig, and Alicia Nicole. He is currently employed by Roadway Express Trucking Company and is on the BRHS staff working in the in-school suspension program and as a substitute teacher.
Larry Carthan may be remembered as a great athlete, from a family of many BRHS athletes, but today he is known as Coach Carthan, one of the nicest and well-respected men in the community. Since 1992, he has been coaching at Bordentown Regional in football and basketball and for the past four years as head football coach. He is a Deacon and Sunday School teacher at the Greater Faith Tabernacle Church in Bordentown and, with other family members; has recorded gospel music with the "Carthan Ensemble". Larry's belief in God is instrumental in every facet of his life; a belief he owes to his late parents, the Pastor George W. Carthan, Sr. and Margaret Carthan.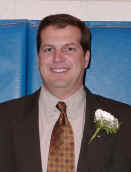 Mark Drew is considered by many as one of the most versatile athletes ever to graduate Bordentown Regional High School. As a student-athlete Mark earned 7 varsity letters; 2 in football, 2 in basketball, and 3 in baseball.
Mark was the starting quarterback and a starting defensive back for the football team. As a junior, Mark helped his team win the Freedom Division. In his senior year, he was selected as quarterback to the Second Team All Freedom Division.
As a basketball player, Mark was a sharp-shooting guard on some of our most productive teams ever. In his junior year, he helped lead his team to a 25 and 3 record en route to a Freedom Division Championship, South Jersey Group I Championship, and an unforgettable Group I State final game. He was honored by being selected to the 2nd Team All Freedom Division, 2nd Team All County, and 3rd Team All State. As a senior, he averaged 21.3 points per game and was second in Burlington County in scoring. He ended his basketball career as the 3rd leading scorer in BRHS history with a total of 963 points. For his efforts, Mark earned First Team All Freedom Division and First Team All County honors.
During his baseball career, Mark was the starting shortstop for 3 years and helped his team win back-to-back Freedom Division Championships in 1981 and 1982. In his senior year, he was selected to the Second Team All Freedom Division.
For his athletic achievements, Mark received a full scholarship to the University of New Haven where he continued his athletic career and earned 6 varsity letters, 3 in basketball and 3 in baseball. As a basketball player, Mark played in two NECC Championship games. He helped lead his baseball team to two appearances in the Division II College World Series.
Mark has redefined what it means to "give back" to his alma mater. As we all know, Mark currently serves as one of our prominent coaches in the Athletic Department, but is not limited to one sport. Just as he was a 3-sport athlete, he coaches the same 3 sports he played. Mark is an assistant varsity football coach, our head varsity basketball coach and head varsity baseball coach (and we thank his wife, Jaime, for allowing him to do so). As a coach, Mark was honored as the 1997 Burlington County Times and Trenton Times Basketball Coach of the Year.
Mark resides in Bordentown with his wife, Jaime, Class of '86, and their 15 month-old son, Dillon.
| | |
| --- | --- |
| Troy Saunders Class of 1983 | |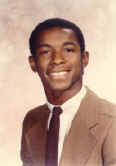 He was twice selected as All-Division/ County in football, once in basketball, and three consecutive years he was selected All County and All-State Track and Field (high jump). He received the BRHS Principal's Trophy (track and field) in 1981, 1982, and 1983. As an all-star in track and field, he set several BRHS high school records that still stand today. He won the state championship for all of Group I in 1982, and set a New Jersey State record on his way to a second title in 1983. Later that summer, Troy was selected to participate in the International Sports Exchange as a member of the United States National High School Track Team. He traveled to Seoul, Korea, Taiwan, and Hawaii to compete in the high jump and high hurdles, where he won Silver and Bronze medals respectively.
After graduating from Bordentown Regional High School in 1983, Troy went on to a college preparatory school, the Marine Military Academy (MMA) in Harlingen, Texas where he continued his athletic and academic achievements. There he set more state records (Texas) in the high jump, received All-State honors, and was selected MMA's "Athlete of the Year" before graduating with academic honors in 1984.
During 1984, Troy received an appointment to the United States Naval Academy in Annapolis, Maryland. While attending the Naval Academy, he participated in several collegiate and community activities, and was a two-sport varsity letter winner in track and field, and football. He received several post-season honors as a high jumper during his sophomore year. As a standout wide receiver on the Naval Academy football team, he received numerous All-East citations during his sophomore and junior seasons. In 1988, he graduated from the Naval Academy with a Bachelor's Degree in Physical Science (General Engineering), and was commissioned as an Ensign in the United States Navy. Troy Saunders was born the seventh of eight children in Trenton, NJ on November 25th, 1964 to Barbara and Howard Saunders of Bordentown, NJ. He, as with his seven other siblings, attended Clara Barton Elementary School, MacFarland Junior High School, and graduated Bordentown Regional High School (BRHS) in 1983. While attending BRHS, he participated in several school clubs, was a four-sport varsity letter winner in soccer, football, basketball, track, and finished academically in the top 20% of his class.
While serving his country as a Navy commissioned officer from 1988 to 2000, Troy's tours of duty included the USS WASP (LHD-1) Amphibious Assault Ship, the USS ALASKA (SSBN-732)(Blue) Nuclear Trident Submarine, Naval Air Systems Command Headquarters, and the Defense Logistics Agency Headquarters. He fought in the 1990 Gulf War, and several other foreign military campaigns including Bosnia. He has traveled extensively throughout Western Europe, the Middle East, and the Far East. Some of his personnel achievements include Surface Warfare designations, Submarine Warfare designations, a Defense Meritorious Service Medal, a Joint Service Commendation Medal, two Navy Commendation Medals, and two Navy/ Marine Corps Achievement Medals. After completing twelve years of honorable service, Troy left the Navy in the spring of 2000 to spend more time with his family, and to pursue other interests in the private sector.
Since leaving the military, Troy has been working at Black Entertainment Television (BET) Inc., headquartered in Washington, DC as the Director of Logistics, Facilities, and Corporate Administrative Operations. He has overall responsibility for all broadcast facilities in Washington DC, New York, Los Angeles, and London, England. As a Director he is already credited with the reconstruction of the largest fully digital broadcast studio and soundstage in the National Capital Region last year. His day-to-day responsibilities include supply chain management, real estate and facilities management, lease and contract management, and design and construction management.
Troy has been married to the former Robin Terese Davis of Columbia, Maryland for over thirteen years. Together they have three boys Troy age 12, and twins Justin and Jordan age 4. They have been residents of Columbia, Maryland since 1991.
Kathy (Loretangeli) Field Class of 1989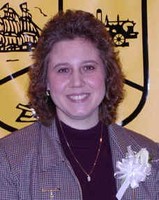 Still one of the most accomplished athletes in Bordentown history, Kathy (Loretangeli) Field excelled both on the field and in the classroom. Making her name in soccer, she was also an outstanding shortstop on the softball team. Kathy, the youngest of four children born to Dino and Kathy Loretangeli, graduated 12th in her class in 1989 and went on to attend the University of Scranton.
While at Bordentown, Kathy led the soccer team to two South Jersey Championships and two State Final appearances. As a dominating striker with blazing speed and a blistering shot, Kathy set a Burlington County record by scoring 42 goals in her junior season. More importantly, the four-year varsity starter and senior captain was also quite adept at setting the table for her teammates. With a career total of 91 goals and 97 assists, it is evident that Kathy was a true team player. Along with numbers like these, came the accolades. Kathy Loretangeli was a first team selection for the Freedom Division, Burlington County, All South Jersey, All State Group I and II, and an Area All-American.
Along with the soccer accomplishments, Kathy was a four-year varsity starter on the softball team where she played shortstop and had a .380 batting average her senior year. As the team captain, she was chosen as a 2nd team Freedom Division representative and the team's Most Outstanding Player. In addition to athletics, Kathy was a member of the National Honor Society, a Girl's State Delegate, and very involved in extracurricular activities.
Kathy made a significant impact on the soccer program at the University of Scranton. A four-year letter winner, Kathy helped Scranton win the Mid-Atlantic Conference championship all four years and qualify for the NCAA Tournament three times. Selected as a M.A.C. All-Star in her sophomore, junior and senior seasons, Kathy was also chosen as a Mid-East Region All-Star in 1991. Kathy finished her career at the University of Scranton by being chosen as the team's Most Valuable Player and currently ranks as the 5th highest scorer in team history with 36 goals and 15 assists.
Kathy Loretangeli-Field resides in Burlington, New Jersey with her husband, Dave and her daughter, Kate. She holds a Master of Arts degree in School Psychology and is employed as a school psychologist in the Gloucester City Public School System.
| | |
| --- | --- |
| John C. 'J.C.' Slocum Class of 1990 | |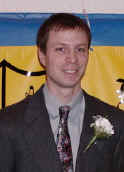 John C. Slocum, better known as J.C., was a standout track and field athlete at Bordentown Regional High School. J.C. earned 9 varsity letters, 4 in spring track, 3 in winter track (competing as a one-man team before winter track was established), and 2 in cross country. His list of accomplishments as a high school student is truly impressive. J.C. was a First Team Freedom Division 100 meter Champion 3 times and a First Team Freedom Division 200 meter Champion two times. J.C.'s forté, however, was the high jump.
J.C. was a 2-time First Team Freedom Division Champion in the high jump and also qualified for the Penn Relays 2 times. As a high school student, he ranks #10 in Burlington County history with a high jump of 6'8" and also ranks #3 in Burlington County indoor track history with a 6'8" jump. He holds five state titles, ranking him the fifth best high jumper in Burlington County history. He won the State Group I indoor title in 1988, 1989, and 1990.
J.C. is the only Burlington County high jumper ever to win the Eastern States High Jump title with his 6'8" leap in 1989. He also held the Burlington County indoor sophomore and junior class high jump records until they were broken in 2001 and 2002. J.C. held the County Open title and the South Jersey Group I title in 1989 and 1990 , respectively. In 1990, he placed 22nd in the nation at the National Scholastic Championships. In addition, J.C. competed at the Junior Olympics and made it to the National Junior Olympics as a high jumper.
While on a Scholar/Athlete scholarship, J. C. continued his high jumping prowess at Rider University, where he earned 4 indoor and 4 outdoor track letters. With his best jump of 6'9¼", he was a 2-time NJ State champion, a 4-time North East Conference champion and a 4-time East Coast Conference runner-up. He qualified for the prestigious IC4A meet and the Penn Relays. He also competed internationally for USA East in 1994.
Since graduating from college, J.C. has leapt into the teaching profession and teaches 4th grade in Palmyra, NJ. J.C. continues to apply his athletic talents as head cross country coach and assistant track and field coach at Palmyra High School. J.C. has also been seen helping out BRHS athletes while at competitions.
J.C. resides in Mt. Laurel, NJ with his wife, Melissa, and their daughter, Maura. J.C.'s proud mom, Margaret, is a valued member of our staff and keeps J.C. updated on all BRHS events.