------2004-2005
Louis Boldizar Class of 1937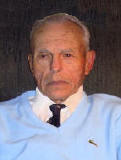 Coaches will tell you that statistics don't tell the whole story and this is particularly true of Louis "Boogs" Boldizar. Boogs, given his nickname because he feared the Boogeyman as a youngster, had a terrific quality prized by moonshiners and football players alike. Nobody could catch him. Lou was so fast he ran in the Penn Relays when he was in 8th grade.
A winner of 8 letters, Mr. Boldizar was the quarterback, safety, punter and place kicker on the football team. His junior year, when the team lost only one game, Boogs ran or passed for 75% of his team's points. During his senior year, when the Scotties went 7-1-2, Louis ran for 13 TD's, threw 2 touchdown passes and kicked numerous PATS. The team outscored their opponents 121-26 and tied for the best Group II record in South Jersey. Louis was the leading scorer in Burlington County and the third leading scorer is SJ. He was a first team All South Jersey pick by the Courier-Post. He was a truly dominant player on the high school football field.
The interesting part of this story is putting his accomplishments into the context of the times. Growing up in the 1930's is something that is difficult for us to imagine. It was the time of the Great Depression and priorities were much different. If you could get a job to help your family, you quit school. A great cook was someone that could figure out 150 ways to cook beans. There was no NJSIAA to set up guidelines for player eligibility. One of the players on the team was 24 years old. After school, the team would walk a short distance to the practice field from McFarland. There were no goalposts and more often than not, the grass was knee high. After practice he would walk to his home that was five miles away in Roebling, Nobody had a car and you couldn't afford the trolley. He never touched a regulation football until High School. The footballs they played with as boys were made out of a sock and leaves. He was offered a full scholarship to Rutgers, but the times being what they were, accepting it was never an option. You had an obligation to your family to get a job. Louis embodies the good things life has to offer through the virtues of discipline, sacrifice, leadership and duty.
After graduation, Lou applied the same traits that made him successful on the field to his life. He and his wife of 64 years, Marge, have 3 children and 7 grandchildren. In Lou's proud words, "They turned out great." He retired from Roebling Steel after 46 years of service. He went to night school to get a metallurgy degree from Temple University, and the quarterback rose to become Superintendent of Production at the Roebling plant. He is also an accomplished Decoy carver with his work having been featured in National Decoy Magazine. We are so very proud to induct this fine sportsman and even finer man into our Athletic Hall of Fame.
Jennifer (Franks) Cristy Class of 1997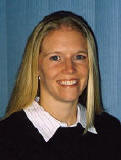 Jennifer (Franks) Cristy made the Hall of Fame research committee work very hard. She literally had no idea what individual statistics she compiled during her four-year high school soccer career. She knew that the team won 3 straight Freedom Division Championships culminating in a South Jersey Championship her senior year. However, her enduring memory of those years was the closeness of the team. They were not just teammates on the field, but also teammates off the field. It is a very fortunate and rare occurrence when a team combines selfless teamwork and exceptional physical ability. It is wonderful as a fan to watch them compete and even more wonderful to be a player or coach. The 1993-96 Girls Soccer team was most definitely one of those magic teams.
They say that records are meant to be broken. If you add up the individual point totals of Jen Franks, Erin Caan and Christina Matthews, the mainstays of this team, you would agree that there are always exceptions to this rule. Over a four-year span, the 3 teammates combined for over 400 goals and assists. Jennifer scored 48 goals and had 84 assists in her Scottie career. Not even counting the goals scored, she averaged about an assist a game for four years. She played as a forward and as a mid-fielder. The list of Jen's individual High School awards is long and numerous:
1993: Freedom Division, second team
1994: Freedom Division, second team
1995: Freedom Division, 1st team, New Jersey Girls Soccer Coaches Association-All SJ
1996: Freedom Division, 1st team, NJSIAA-Scholar Athlete, South Jersey Coaches Association-All SJ, New Jersey Girls Soccer Coaches Association-All SJ, All State
During her time at Bordentown Regional, Jen also excelled in basketball and softball. She earned numerous awards in Softball and was a captain during her senior year. She was also co-captain of the soccer team during her junior and senior seasons. After High School, Jen played Division 1 soccer at High Point University, a member of the Big South Conference. She started all 4 years and holds the school record for most games played. She was also a team captain during her senior year. Jen lives in Abington, Maryland with her husband, Joseph. She is a mathematics teacher and still plays and coaches girl's soccer. Her parents are Bordentonians Ron and Debbie Franks. Along with Buzz Seaman, Ron and Debbie must hold the Bordentown record for the amount of grass cut and fields lined at Bordentown soccer fields. It is with great pleasure that we induct Ms. Jennifer (Franks) Cristy into the Bordentown Athletic Hall of Fame.
Aaron Biddle Class of 1998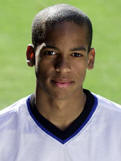 Aaron Biddle graduated from Bordentown Regional High School in 1998, leaving a trail of athletic excellence that could be considered one of the greatest athletic accomplishments in the history of Bordentown Regional High School. Aaron was a four-year varsity letter winner in soccer and a three-year varsity letter winner in both basketball and track and field.
Aaron's soccer accomplishments include the following:
four-year varsity starter and two-time team MVP
a three-time all-conference selection
posted 47 goals, including 22 in 1997 and 49 assists during his career
1997 Regional All-American, South Jersey Midfielder of the Year, South Jersey Scholar Athlete of the Year and First Team All-State performer
Member of the New Jersey State Team from 1994-98, winning the 1995 and 1996 Region I ODP championships
Invited to participate in the Second World Scholar-Athlete Games
Track and field began as a hobby for Aaron, something to keep him busy during the soccer off season. In fact, Aaron played baseball his freshman year switching to track his sophomore season. In his junior year, Aaron qualified for the Meet of Champions in the 110 High Hurdles. For his senior year, Aaron set his goals a little higher. He not only met these goals he surpassed them. His senior year accomplishments are as followed:
Philadelphia Inquirer Athlete of the Week
1st team 110 HH Freedom Division
2nd team 200M Freedom Division
5th Long Jump Burlington County Open
2nd 110 HH Burlington County Open
2nd team 110 HH Burlington County
1st team 110 HH South Jersey Group I
South Jersey Sectional Champ, 110 HH Group I
4th Long Jump, South Jersey Sectionals Group I
5th 200M South Jersey Sectionals Group I
State Champion 110 HH Group I (State Group I
Record 14.26)
Qualified Long Jump and 110 HH Meet of Champions
6th 110 HH Meet of Champions
Tied school record in 200 M (22.4) and 110 HH (13.9)
Aaron's passion for soccer was manifested in his hard work and firm commitment to the sport. He worked day in and day out, not only during the season, but all year round. His tenacity paid off when he signed a letter of intent to Stanford University where he joined the men's soccer program. Aaron attended Stanford in the fall of 1998. He received 3 varsity letters from Stanford, gaining an All-Conference Second Team selection in 2000. He started all 22 games in 2001 and was an Honorable Mention All PAC-10 Selection. He played on 3 NCAA Tournament teams during his collegiate career and in 2002 was drafted 60th overall by the San Jose Earthquakes of the Major Soccer League (MLS). He played 1 year for the Minnesota Thunder of the USISL in 2002.
Aaron now lives in Santa Cruz, California where he serves on the Santa Cruz Police Department.
It is with great pride that we welcome Aaron Biddle into the Bordentown Regional High School Athletic Hall of Fame.
Kristina Matthews Class of 1998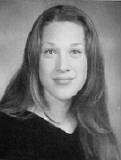 Her Bordentown Regional High School athletic career came to an end in the spring of 1998. The legacy she left in soccer and track and field stamps her as one of the school's greatest all-around athletes in history.
Kristina's accomplishments on the soccer field included 65 goals scored, 110 assists, team captain, All League for three straight years, and All South Jersey her senior year. She made an immediate impact as a Freshman and continued to develop throughout her four year tenure. Bordentown Regional's veteran head girl's soccer coach, Dominic Castaldo, summed it up best when he said of Kristina, "Her work ethic and desire to learn and apply what she learned were always evident. These characteristics are what made her so successful."
Those same skills and traits which carried her far on the soccer field would once again surface in the spring. For it was in track and field that Kristina would leave her mark. In South Jersey Group I competition as a junior she finished second in the 100 meter hurdles and high jump and third in the long jump and 400 meter hurdles. She followed this with similar results in the State Group I competition thus qualifying for the New Jersey Meet of Champions in all four events, an extraordinary feat for any track and field athlete.
As a senior, Kristina took her skills and strong work ethic to another level. At the South Jersey Group I Championships, she brought home gold medals in all four events. No Burlington County girl's track and field athlete had won as many "golds" in the past twelve years. Her winning long jump of 18' 6 ¼" was the third best in county history. The following week in New Jersey State Competition, she won the Group I long jump title, finished second in the high jump, third in the 100 hurdles, and fourth in the 400 hurdles. To cap off a truly remarkable track and field career, she was chosen Burlington County's 1998 Girl's Track and Field Athlete of the Year and South Jerseys Girl's Track Athlete of the Year.
Kristina attended the University of Richmond and Rider University. She works in the Human Resources Department for Deloitte and Touche and lives in Greenwich Village in New York City.
It is with great pride that we welcome Kristina Matthews into the Bordentown Regional Athletic Hall of Fame.