------2009-2010
Michele Lovell Millet Class of 1973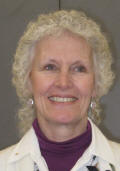 Michele Lovell Millet is one of the greatest role models for our young people today. Michele graduated from BRHS in 1973. She earned seven Varsity letters playing Softball, Field Hockey and Basketball and was captain of the latter two sports in her senior year. Participating in an era when statistics were not yet a priority for women's sports, specific facts and figures on Michele's individual accomplishments are not available. Emphasis on statistics pales in importance to the character of Michele as a competitor, teacher and coach.
Bordentown Regional High School was very fortunate to have Michele first as a student and athlete and later as a teacher and coach. Letters from field hockey players and from her students speak of life long lessons learned from Mrs. Millet. Some of these include sportsmanship, determination, team unity, compassion for others in difficult situations, accomplishing a goal and working together with those around you. Her husband probably put it best. "I know of no one who demonstrates greater character, integrity, and determination."
Michele graduated from Trenton State College in 1977 with a Bachelors Degree in Health and Physical Education. Michele played two years of Lacrosse and four years of Field Hockey, three of those years on the Varsity Squad. She played a fullback position and was an excellent player on a very competitive team. In Michele's senior year the Hockey Team won the state Field Hockey Championship.
Michele Millet started teaching in Bordentown in 1995. She was the Head Field Hockey coach from 1999 to 2005. Michele always gave 100% of herself to any endeavor and has always found a way to bring out the best in everyone else. By 2001, the Bordentown Field Hockey team had won their first Freedom Division Championship. That year seven players were chosen as First Team All-Freedom Division All-Stars. Bordentown had first and second team all-stars each season of Michele's coaching tenure at BRHS. Michele was able to do this by finding each athlete's individual strength in order to make the whole team stronger.
Michele has given so much back to Trenton State College (now The College of New Jersey) and to the Teaching Profession. She was a Field II and Student Teaching Co-operating Teacher for the College for many years while teaching at BRHS. She assisted college students with her expertise and all of those students left their experience with Michele as better future teachers and better people because of her ability to be a great role model. Michele is now a student teacher supervisor for The College of New Jersey.
Michele has been an individual that has given so much to the community. She was an excellent swimming and life guard instructor for Bordentown CE/R for twenty years. Michele directed a Field Hockey Camp for CE/R and volunteered her time to sponsor a Community Tennis Clinic in New Egypt. Michele was the lead teacher from the high school for CARE (Community Action Reaching Everyone)
From 1978-2005, Michele continued to play Field Hockey with the Women's West Jersey Field Hockey Club in Moorestown. She also competed in three National Field Hockey Tournaments on the Mid-Atlantic Team. This certainly demonstrates her love of the game. It is with great pleasure that we induct Mrs. Michele Lovell Millet into the Bordentown Athletic Hall of Fame.
Steven DiLemme Class of 2003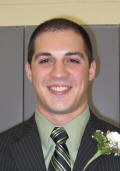 "I took the road less traveled by,
And that has made all the difference."
To quote the Robert Frost poem, "The Road Not Taken"…Frost's last two lines are quite appropriate for the path Steven DiLemme took in his high school athletic career. Steven finished a very successful junior year track season with a first place finish and a Group I South Jersey 3200 title. However, when college coaches came calling, he could not answer one of their most frequent questions – what was his best Cross Country running time. The problem was that he was an extremely valuable member of the Varsity soccer team – having led the team in goals scored the previous season. Additionally, there was no longer a Cross Country program at the high school. At the start of his Senior year, Steven was faced with a tough and unpopular decision. Steven decided to take "The Road Not Taken" and become a one-man Cross Country team. Unfortunately he had to leave soccer behind since the two sports occur during the fall season.
With no teammates and no coach, Steven went out on his own. The result of this difficult decision was a Freedom Division individual championship, a fifth in Sectionals, an All-South Jersey Group I recognition and an All- Burlington County Cross Country selection by the Trenton Times. Additionally, the Philadelphia Inquirer made Steven the subject of a sports article recognizing his individual achievement. This was an impressive accomplishment, but not the only highlight of a very successful high school athletic career. Steven's four years at Bordentown Regional High School included eight varsity letters in four different sports, where each team for which he performed qualified for state competition.
Steven joined the highly successful, Charlie Miller-coached Boy's Track program and he became one of the mainstays of the long distance squad that dominated Group I track. He earned varsity letters from 2001-2003 and the team was South Jersey champion each of those years, winning the New Jersey State Championship in 2001. He successfully competed in the 3200, 1600 and 800 in the sectionals and the states; placing in seven sectional and three state meets. He was the 3200 sectional champion in 2002, was part of a rare 1-2-3 1600 photo finish with teammates Joe Minch and Rob Novak in the 2002 sectionals and placed in all three events in the sectionals in 2003 (2nd -1600, 2nd - 3200, 3rd - 800). Among his many awards, he was selected All South Jersey Group I in the 3200 in 2002 and All-South Jersey in the 1600 in 2003. Furthermore, Steven was a member of many relay team victories during his career and in 2003, graduated as part record holder for the 4x800, 4x1600 and distance medley relay teams.
Steven's first love, basketball, took a backseat to the track and cross country successes but his career on the court was indeed stellar. A three year letter winner, he was the point guard that never came off the court. His ball handling skills made him invaluable to the team and he was known for his team play, hustle and all around sportsmanship. During his hoops career he scored 668 points, led the Patriot League in scoring his senior year, set BRHS records for three-pointers in a season 63 and career 123, was 2nd team All-Patriot 2002, 1st team 2003, 2nd team All-Burlco Trenton Times, team captain in 2003, and capped off his career with a 20 point effort versus Florence in the state playoffs.
Steven made it to the varsity level in Soccer his junior year where he was the leading goal scorer for a state playoff team that was victorious over Florence, 3-1 and lost to the #1 seed Haddon Heights in the semifinals, 2-1. Steven scored 13 goals that season with two in the Florence playoff win and one in the semifinal loss.
A high school guidance counselor once referred to Steven DiLemme as the "consummate student athlete". Graduating in the top ten of his class and always exhibiting team play and sportsmanship, he exemplified that statement. It enabled him to attend Bucknell University where he earned varsity letters for cross country and track his freshman year also earning him selection to the 2004 Patriot League Sports Academic Honor Roll. He graduated with a degree in economics in 2007. Steven currently works for Windstreet Energy as a financial manager and will complete his MBA in Accounting at the end of this year.
1955-56 Basketball Team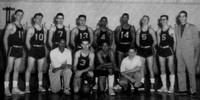 The 1955-56 Basketball Team
Won First South Jersey Championship
.
Since the advent of the NJSIAA in 1918, no Bordentown basketball team had managed to win a South Jersey Title until this scrappy, athletic and very short squad accomplished this feat in 1956. It was a wild ride to the State Finals and along the way, the Scotties had plenty of opportunities to fold, but like the Champions they were, they never did.
The Scotties, who finished as the 2nd highest scoring team in South Jersey, were led by the great Tom Matlock, a 2001 HOF Inductee, who averaged well over 20 points per game. Bob Parker and Bob Flynn both scored in double figures and were expected to control the boards against much bigger opponents. Sophomore Dick Ganges was the super athlete who could score, rebound and defend and Ron Kolwicz was the Steady Eddie who quietly took care of business. The strong and deep bench had another sophomore, Dave "The Truck" Lebak, who was coming off an All-State Football season, Bob Swanson, Bill "Digger" Hartman and Marshall Ferguson all contributing. The squad was rounded out by Gardner Kenny and coached by Dick Wilson.
The first round opponent for the Scotties in the State Tournament was the Florence Flashes who the Scotties had thumped 83-40 in January. Trailing at halftime, Coach Wilson, knowing that Matlock was graduating, told his squad they better wake up because "they may never make the Tournament again". The Scotties prevailed, barely, by eking out a 61-59 win. Next, it was off to play Wildwood in the South Jersey semifinals where the Scotties, once again, had to pull a rabbit out of the hat. Down 47-35 entering the 4th quarter, they outscored Wildwood 24-8 in the 4th quarter to win 59-55. In the South Jersey Group I Finals, they rewarded their faithful with another heart-stopping victory, beating Cape May by the score of 48-47.
By now, the hordes of Bordentown fans grew bigger and louder. The busses going to Asbury Park Center were full as the Scotties took the court against a heavily favored Rumson team led by the 6'6? Luden twins, in the State semi-finals. Things didn't start well. During warm-ups, the Rumson Bulldog mascot ate the little mascot that Rumson had dressed up as a Scottie Dog. As the first quarter progressed the locals found themselves on the wrong end of a 12-0 score and, to a man, they said that Rumson was the dirtiest group of players they had ever played against. Bruised, battered but also miffed, the Scotties called time-out and as Dick Ganges said, "We decided to press those suckers right off the court." The rest, as they say, is history as the Scotties did just that and blew past Rumson to win by 10.
The Scotties lost to North Arlington in the State Group I finals but had accomplished something that no previous Bordentown Basketball Team had done. To put their season in perspective, since 1956, only one other Bordentown Boys Basketball team made the State Finals. As a humorous side note, as a prize for being second best in the State, they each received a little plastic basketball that was, in their words, "the size of a marble." Their heart, however, was not the size of a marble but the size of a Lion and today we salute them. We are proud to induct them into our Hall of Fame.
Players
Marshall Ferguson
Bob Flynn
Dick Ganges
Bill Hartman
Gardner Kenny
Ron Kolwicz
Dave Lebak
Tom Matlock
Bob Parker
Bob Swanson
Managers
Larry Christiansen
Bob Kimmelman
Tom Wingate
Coach
Mr. Dick Wilson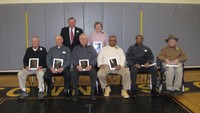 Induction Ceremony in Gymnasium