------2013-2014
Randi Temple Roohr
Class of 2004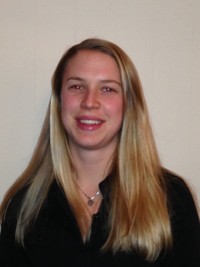 Although she was a 10-letter winner in High School, the name Randi Temple will forever be associated with Bordentown girls' basketball. The sweet shooting lefty was a 4 year starter for the Scotties and finished as the Schools second leading all-time girls scorer with 1,362 points. She also holds the girls school record for most career 3-pointers (139), 3-pointers in a game (5), and 3-pointers in a season (42). She was a 4 year team MVP and among many awards to numerous to mention, she was a 3-year First Team Burlington County Scholastic League (Patriot Division) and during her senior year, was the winner of the Albert J Carino Girls Basketball Club of South Jersey Outstanding player award.
Randi Temple was almost impossible to guard. From her spot on the left side of the court, Randi would get the ball and with her unbelievably quick shot unleash an 18 foot jumper in a millisecond. If the defender would come up on her, she would blow by her and, 2 steps later, sink a layup. Nobody could figure out how to stop her. She was known for her outside shot and it really was a site to behold. Her arc was so high that if the games were played outside, the ball would have come down wet. If the ball hit the rim, it would, inexplicably given the height of her shot, just deaden on the iron and mostly go into the basket.
When Randi burst upon the scene in 2001, the state of Scotties girls' basketball was not good and the pressure on Randi to help lead the program out of the wilderness was high. She handled the pressure beautifully in her quiet and unassuming way and led the Scotties to a Burlington County Scholastic Patriot Division title during her senior year.
Post High School, Randi played one year for Region 19 Champion Mercer County Community College. After her year at MCCC, Randi transferred to The College of New Jersey where she concentrated on her studies. She graduated Summa Cum Laude in 2008 with a Bachelor of Science Degree in Health & Exercise Science. She was hired by the East Windsor Regional School District where she teaches Health & Physical Education at Hightstown High School. She married her high school sweetheart, Dan in December of 2008 and coached both softball and basketball including two years as head basketball coach. Randi, Dan and their son, Cole, live in Westhampton.
We are proud and honored to welcome Randi into the Bordentown Regional Athletic Hall of Fame.
2001 Boy's Track Team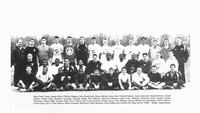 The 2001 Boy's track team won the Group I Boy's Track & Field State Championship at Egg Harbor Township High School on Sunday, June 3, 2001. Powered by the scoring of John Brodowski, Donny Fillinger, Joe Minch, Pat Flaherty and Bob Burns the team was only the fourth in Burlington County history and the first in Bordentown to claim the state title. A veteran squad that, 2009 Hall of Fame inductee, Coach Charlie Miller referred to as a dream team because they were a great bunch of kids who had athletic talent, a strong work ethic, determination and character. The coaching staff called this the best team they had ever coached. Two coaches and three players are present individual inductees of the Athletic Hall of Fame. Many of the members of the squad received post season recognitions in their individual events.
After a 7-3 regular season and an undefeated Freedom Division record, the Scotties also captured the Freedom Open and the South Jersey Sectional crowns by record setting margins. They excelled at the Bridgeton and Woodbury Relays. They established school records in five different events by season's end.
Coaches
Charlie Miller, head coach, 2009 Athletic Hall of Fame inductee
Jay Kipp, assistant coach, 2004 Athletic Hall of Fame inductee
Tony Haneman, assistant coach
Team Members
Andrea Bontya, Manager
Maurice Coleman, Sprints/Jumps
Steven DiLemme, Distance, 2010 Hall of Fame Inductee
Anthony DiLemme, Sprints
Joseph Dolina, Throwing
Donald Fillinger, Distance, 2009 Hall of Fame Inductee
Daniel Fillinger, Sprints
Jason Alm, Hurdles/Jumps
John Brodowski,Hurdles/Jumps, 2003 Hall of Fame inductee
Robert Burns, Pole Vault/Sprints
Patrick Flaherty, Javelin/Throwing
Dan Havens, Throwing
Rob Higgins, Throwing/Sprints
Joshua Lewandovski, Sprints
Joe Minch, Distance
Doug Ralph, Pole Vault/Throwing
Cody Scott, Hurdles/Sprints/Jumps
Paul Solimine, Pole Vault/Distance
Clint Walker, Pole Vault/Hurdles
Micheal White, Sprints/Jumps
Justin Zaremba, Throwing