------2005-2006
Jill E. Carson Class of 1963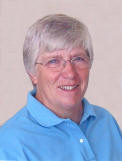 Women's athletics at William MacFarland High School were in the beginning stages in the early 1960's. Jill Carson was an excellent athlete in three varsity sports and an outstanding team leader for all three sports during that time. Jill was a pioneer for women's athletics at Bordentown and Jill with her team mates were responsible for a great beginning to women's athletics for Bordentown Regional High School.
A winner of nine varsity letters, Jill played center halfback on the varsity Field Hockey Team. Jill was a very strong defensive player and was well respected for her leadership both on and off the field.
Jill was a forward in basketball and was the leading scorer in her senior year. The team record in 1963 was 7 wins and 1 loss. Jill was the short stop for the Softball Team and had excellent statistics. Jill was co-captain for all three sports in her senior year and would have won State and Freedom Division Honors in today's athletics.
Jill graduated from East Stroudsburg State College in 1967 Magna Cum Laude with a Bachelor of Science degree in Health and Physical Education. She played varsity tennis for 4 years at East Stroudsburg. Jill was selected to Who's Who in Colleges and Universities in 1967.
After graduating from college, Jill taught Health and Physical Education at Rancocas Valley Regional High School. She coached Basketball, Softball, and Tennis at Rancocas Valley. Her Softball teams won 2 league championships, 2 South Jersey Sectional titles and a State Championship in 1977. Jill was inducted into the South Jersey Softball Coaches Association Hall of Fame in 1989 and the Rancocas Valley Regional High School Hall of Fame as a coach in 1999.
Jill, having retired from teaching in 1985 and from real estate in 2000 lives in Addison, Maine in the summer and Kingsland, Georgia in the winter.
W. Clarry Dykes Class of 1973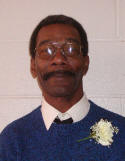 The Athletic Hall of Fame Committee is very proud to induct Mr. Clarry Dykes, the first State Champion in the history of BRHS into the Hall of Fame. In the spring of 1973, Clarry flew through the air with the greatest of ease and when he landed 21'3/4" later, the State Group II Long Jump Championship was his. To put that number in perspective, he beat the second place finisher by over a foot.
Clarry already held the school record with jumps of 21'5" his junior year and 21'9" his senior year. However, by the time the States rolled around in 1973, his body was ready for the MASH unit. Because of injuries to the 2 top hurdlers, Clarry was enlisted to run the 120 high hurdles and the 180 low hurdles. The good news was that he was undefeated in dual meets in all three events. The bad news was that by the end of his senior year, he had a strained left groin, a pulled hamstring and a bad ankle. The Ace Bandage Company was ready to name a line of products after him. However, his Coach, Hall of Famer, Herb Conway, gave Clarry the "now or never" speech, made him do away with the mummy look, and as they say, the rest is history.
Clarry not only won the Group II Championship but finished 3rd in the All Group Championship. Ironically, the jump he most remembers is the All Group jump that would have won the event if he hadn't fallen backwards.
In speaking with Clarry about his achievements, it was evident that there was a great deal of love, respect and admiration for the role that Herb Conway played in his life. Time and time again, we see great athletes being led by great coaches.
Clarry currently resides in Burlington with his wife Gladys and children Lia and Olivia.
Ryan T. Crammer Class of 1999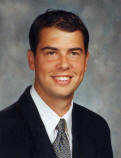 The induction of Ryan Crammer brings another school record holder into the Hall. His four year athletic career began as the starting quarterback on the Freshman Football Team for coach Mark Drew and ended as the starting shortstop on the Varsity Baseball Team for his father, then Head Coach By Crammer. During this four year period, Ryan etched his name in the school's baseball record books.
Though his football career proved to be a brief one year stint, Ryan played four years in the basketball program, starting Varsity his final two years for Coach Drew. He averaged 15 points per game his senior year as the team's co-captain.
As a Freshman Baseball player for Coach Rob Walder, Ryan started at shortstop and saw brief appearances at the Varsity level, including playing time in the State Tournament at the end of that year. As a Sophomore player, he broke into the Varsity line-up as the starting third baseman where he began his assault on the school's hitting records. His ability to hit the baseball would carry him through the remainder of his high school career and into his collegiate days. He finished his Sophomore campaign with a .384 batting average and selection to the Freedom Division Second Team.
Moving to his natural position as shortstop in his Junior season brought continued results as he coupled flawless defensive play with a .482 batting average. He was recognized for his efforts with selection to the Burlington County Carpenter Cup Team, which made it to the semi-final round of the Tri-State competition at Philadelphia's Veteran's Stadium. Several Division I College programs began to take notice.
His desire to improve his skills and become a better player continued to move forward into his Senior season. As team Co-Captain, he was chosen once again to the Carpenter Cup Team, he was selected to the All-County First Team and became the first B.R.H.S. baseball player chosen as league MVP by the coaches. His Senior accomplishments include:
.536 batting average - school record
.467 Varsity career batting average - school record
1st Team All-Area (Burlington-Bucks-Mercer Co.) Team of the Decade (90's) as selected by the Trenton Times Newspaper
Signed letter-of-intent to attend Villanova University on baseball scholarship
Ryan attended Villanova University where he lettered in baseball for four years before graduating in 2003. He began his collegiate career as a middle infielder before moving to first base as a Junior. He started at 1b\dh in his Senior year, hitting .322 in Big East competition for the Wildcats.
Ryan currently resides in the Bordentown area and is employed by the Trenton Thunder, the New York Yankees Double A affiliate as the Director of Stadium Operations. The Bordentown Regional Athletic Hall of Fame is honored to welcome Ryan Crammer into its ranks.
Justin VanHyning Class of 1999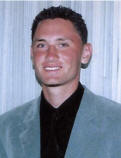 In the spring of 1977, Bordentown Regional High School re-instated its Varsity Golf Team due to renewed interest in the sport and the emergence of the young athlete who was to become its most successful golfer in school history.
As a Freshman, although still a year away from competing against other schools in Dual match play, Justin placed 8th in the Burlington County Open, an end-of-the-season event matching the top golfers from all county schools. His Sophomore year, playing with fellow teammates against other schools, brought continued success as Justin placed 2nd in the county and 4th in the Group I State Championships.
Justin continued to develop as a golfer during his Junior year as he once again placed 2nd in the County Open with a score of 77 and 4th in the State Group I Championships. Added accolades included his selection to the All Burlington County First Team and the issuance of a letter-of-intent to attend Seton Hall University on a golf scholarship.
Following a strong desire to improve and a determined work ethic, Justin capped off his high school career with a record-breaking Senior year. Among his accomplishments were 1st place finishes in both the County Open and State Group I Championships. He was chosen Most Outstanding Golfer in Burlington County by the Burlington County Times as well as one of the areas Top Ten High School Golfers of the Decade of the 90's.
Accepting a golf scholarship to Seton Hall University, Justin continued his golf mastery at the collegiate level for the next four years. He was chosen as Seton Hall's number one golfer during his Senior campaign and placed in the Big East Tournament.
The former Olde York Country Club Men's Champ now resides in Hamilton Township and is employed by Northeast Displays and Graphics. He also is owner and operator of his own studio, Digital Extreme Photography.
It is with great pride that we welcome Justin VanHyning to the Bordentown Regional Athletic Hall of Fame.
1986 Soccer Team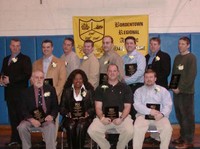 1986 Burlington County Scholastic League
Freedom Division Soccer Champions
South Jersey Group I Champions
New Jersey State Group I Boys Soccer Champions
State Champions don't come around very often and it is even more unlikely when a team is considered in a "rebuilding stage". Well, the Bordentown Regional High School 1986 Boys Soccer Team accomplished something that only one other Bordentown team had ever done. This group of 16 players epitomized the concept of team and shocked a three-time state champ to reach the highest goal possible in high school team sports.
Led by head coach Robert Groover and assistant coach Robert Lewis, the Scotties captured the Freedom Division Championship with a record of 14 wins, 2 losses and 2 ties. Over the course of the season the team outscored their opponents by a total of 71 goals for and 17 goals against while recording 10 shutouts. The BRHS starting lineup was so potent that they actually had seven out the eleven starters selected to some level of all-star team by newspapers and coaching associations. Additionally, Coach Groover was chosen by the Burlington County Times and the Philadelphia Inquirer as the area Coach of the Year.
In the state tournament the Scotties scored eight goals and allowed three. In the first round the boys beat Palmyra 3-1 in a very physical match. At the South Jersey Championship Bordentown claimed the victory after a 1-1 overtime tie that resulted in a penalty kick shootout. Three Scotties found the back of the net while only two players scored for Pitman. Next, in the state semifinal match, the Scotties handled a very talented Bernards team in a 2-0 victory. The squad was now on its way to the State Final in Ewing, New Jersey.
On a very cold afternoon, November 25, 1986 the Bordentown Regional Scotties met the North Jersey Champion Chatham Township Gladiators on the Astroturf field of Trenton State College. Chatham didn't waste any time as it scored the first goal of the game with six minutes remaining in the first quarter. Both teams traded scoring opportunities with Bordentown actually having two goals disallowed (one for offside and one that was ruled out of bounds). As things began to look bleak, Chatham was called for a handball 25 yards out and senior John Blum stepped up to take the direct kick. With four minutes left in the game, Blum drilled a line drive just under the crossbar to tie the score.
After a scoreless first overtime and with only five minutes remaining in the second overtime, Chatham was called for another foul and once again John Blum lined up a 25 yard direct kick. Unbelievably, Blum unleashed another rocket that found the back of the net and began the celebration. After only nine years in existence, the Bordentown Regional High School Boys Soccer program had accomplished the ultimate objective; a State Championship. The coaches, players, parents and fans had a distinct feeling that they were in the middle of something quite memorable. They were absolutely correct because State Champions don't come around very often.