| | |
| --- | --- |
| C. Kevin Foster Class of 1970 | |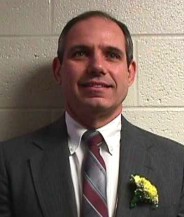 While a student-athlete at Bordentown Regional High School, Kevin Foster earned 7 varsity letters, 3 in Football, 1 in Basketball, and 3 in Baseball.
As the quarterback and defensive back of the football team, Kevin led his team to its first Delaware Valley League Football Championship and third undefeated football season in the school's 57 year history. Kevin was distinguished as the team's Outstanding Offensive Player of the Year. His post season honors included 1st team All Delaware Valley League Offense - QB, 1st team All Burlington County Defense - Defensive Back, and 3rd team All Area Defense - Defensive Back.
Kevin earned a varsity letter in basketball that year and helped his team to a 17-4 record and its second consecutive Delaware Valley League Championship. Kevin was the recipient of the team Foul Shooting Percentage Award.
During his baseball career, he was starting pitcher and first baseman. In 1970, Kevin led his team to a 17-3 record and the Delaware Valley League Baseball Championship, Bordentown's third championship of the year. Kevin was the team Defensive Player of the Year and his distinguished post season honors included 1st team All Delaware Valley League - Pitcher, 1st Team All Burlington County - Utility Player as Pitcher and First Baseman and 3rd team All Area.
After graduation, Kevin continued his athletic career at Delaware Valley College where he started for 4 years in both football and baseball. As a football player, he received such honors as 1st team All Conference Offense for 2 years and Team Offensive MVP. He also broke the MIAC Conference total Offense Record.
Kevin led his college baseball team in hitting for 2 years with a .394 and .397 batting average. For his efforts, he was honored as the Burlington County College Player of the Year.
After his playing days were over, Kevin gave back to young athletes by coaching football, baseball, and basketball which included 2 State Championship teams for 13 and 14 year-olds.
Kevin now resides in Bayport, Minnesota with his wife Brenda of 27 years (a Class of 1972 graduate) and their four children, Kevin, Stephanie, Robert, and James.